One of the key ways that Pitt-Rivers documented his collections after 1880 was to list all of his acquisitions in the catalogue, which is now held by the Cambridge University Library. Though the information varied a little over time, he almost always caused to be recorded the person or institution from which he had obtained the object, a short description and drawing, the price, and its location. In this he was in line with (or ahead of) contemporary museum practice.
In addition he caused many objects to be written upon with basic information, and it seems that often the page number of the relevant catalogue volume was also added. This information was often written on the backs of objects, or in their interior if it was accessible. In other cases some information was written onto the base of the object (if it was suitable to have a base, and had a permanent base fitted). In 'Provenance', Hermoine Waterfield writes that:
'Harold St George Gray was more involved with the museum and its acquisitions. He organised the typical wooden stands, painted grey or black and lettered with black or yellow respectively, used for exhibits: many of the artefacts had their descriptions, provenance and relevant dates similarly painted in neat capitals on the object rather than on a label. [Waterfield, 2006: 464]
Ian Marshman of the School of Archaeology & Ancient History, University of Leicester has speculated that some objects from Farnham Museum have a red number written on them which seems to accord with the room that the catalogue of the second collection records them being placed in in the museum, for example a pottery vessel has '5' in red on it, and this might have gone into Room 5 which had many pottery vessels. However, this is only a theory at this stage and has not been confirmed.
This sort of information can be used to search the catalogue either manually (as in the past) or now by searching the computerised catalogue of the second collection and looking in the research field. The information on the bases of objects appears to have also served as display information. In other words, visitors to Farnham Museum would have used the information on the bases as a form of display label. This technique was also in use in the Pitt Rivers Museum at Oxford and was probably a common museum display method of the time.
This information tends to omit the source of the object and the page reference to the catalogue but varies a great deal in length with some being very short (just a description of geographical provenance, for example see the photograph of objects on page 11 of the Sotheby's sale catalogue for 25 June 1984 below) or much longer as in Add.9455vol5_p1585-6 below. At the end of this page there are quite a few photographic examples of the kinds of written documentation found on objects from Pitt-Rivers' second collection. Note that objects often had written information on the back and display information on the base.
Other examples of objects known to have been similarly physically documented are:
Add.9455vol2_p738 /6: inscribed "Carved wood pipe, Lake Albert Nyanza district, Bt of Fenton May 21-91 p. 738"
Add.9455vol3_p818 /1: inscribed "Statuette of Aphrodite Cyprus Lt. Gen. A.H.L.F. Pitt-Rivers collection Pitt Rivers Museum catalogue p. 818"
Add.9455vol3_p820 /1: written in red ink on base "Lawrence Coll: Sotheby Lot 620 Apr. 1892 £1.6"
Add.9455vol3_p1082 /2: Label on base reading "Stone image used in initiatory service, not an idol. New Guinea, p. 1082 Savage Coll.'
Add.9455vol3_p1111 /1: A painted label on the interior reading "Bt. of Fenton May 1895 waistbelt New Guinea"
Add.9455vol3_p1223 /2: An old label inside reading: "Bt of Webster Oct 1895, waistbelt New Guinea P 1223"
Add.9455vol3_p1276 /1: According to Christie's when this item was sold in London in 2001 it had a 'Paper label inscribed in ink: "Bronze spear, Hungary, Bt of Talbot Ready p1276". Note that this is a bronze spear-head from Hungary so presumably the label was stuck to the bronze with some form of adhesive?
Add.9455vol4_p1350 /2: "African bt of Webster Nov 1896 p. 1350" (it is not known where this information was recorded, it was noted by Sotheby's when the item was sold there in June 1984)
Add.9455vol5_p1585 /2: "Idol name 'Rarun' an island off the coast of New Guinea which has been destroyed by earthequakes Bt Wbster 1897 p. 1585" [interestingly this is almost completely different information from that in the catalogue]
Add.9455vol6_p1794 /1: inscribed "God of Pain from Jesuque tribe, New Mexico. Lwrnc. Nov 1898"
Add.9455vol7_p2074 /1-2: Painted label saying "Maori carved wood door post from the Whare of Pohepe (Chief) Wiewara Co. Hyams 1899" and "Maori carved door post from the Whare of Pohepe (Chief) Wiewara Co. bought Hyams Nov. 1899" [the details about the original owner of the door posts was not included in the CUL catalogue]
When this documentation was added is unknown, the first example [Add.9455vol2_p738 /6] seems to date from the General's time, but the second [Add.9455vol3_p818 /1] could date from later or from another subsequent owner.
This page is illustrated with known examples of the way that second collection objects were inscribed. The first is from a Christie's sale on 8 June 2012, of Add.9455vol3_p873 /4, a glass bottle from Amiens showing the details inked on the bottom of the object.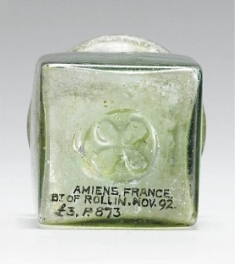 The composite photograph of several Pitt-Rivers items sold by Sotheby's on 25 June 1984 includes Add.9455vol6_p1794 /1 a pottery figure from New Mexico.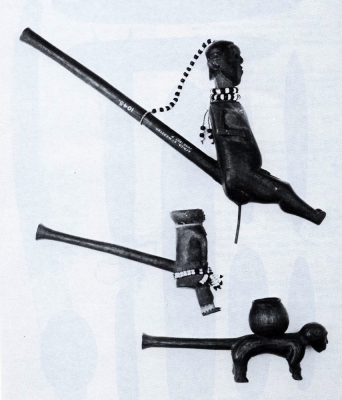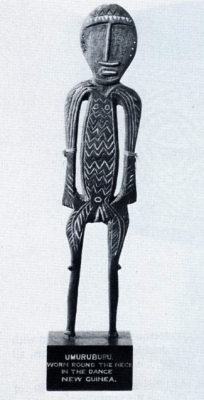 The following item is taken from a sale catalogue 'Visser: Melanesian art' no date, and is the label for a 'Korwar figure, West Papua' from page 3. This figure is listed in the catalogue of the second collection as Add.9455vol5_p1583 /1.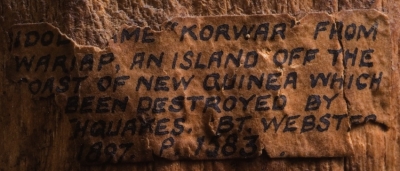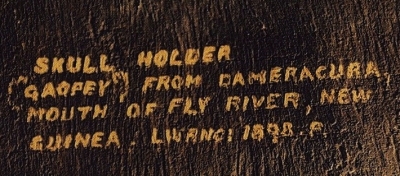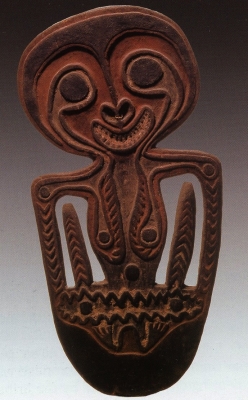 The two images above are the object and its label (attached to the back). This object cannot be matched to the items listed in the catalogue of the second collection but the documentation seems to make it clear it must have formed part of Pitt-Rivers collections. There were no items of this description listed for 1898 from Lawrence. The images were first shown in 'Provenance' page 44.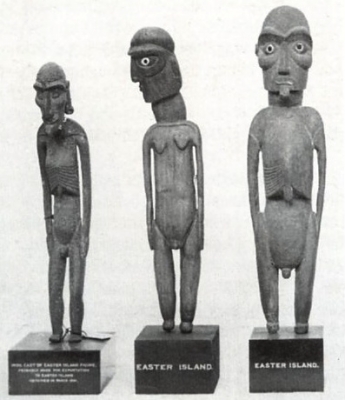 The penultimate image shows a series of Easter Island figures mounted on the characteristic stands used by the Farnham Museum (and others) in the late nineteenth and early twentieth centuries. It has been suggested by Hermoine Waterfield in 'Provenance', page 45, that these stands were 'devised by' Harold St George Gray.
The second to last image shows documentation which it has been suggested was prepared for the objects after Pitt-Rivers' death in 1900. Again according to Waterfield, this label on the stand was devised by Captain George Pitt-Rivers and Dudley-Buxton circa 1929. The original documentation in the catalogue of the second collection read:
'Bt of Burrows (cont'd) ...  [1 of] Two well-formed heads in bronze, the foreheads decorated each with two inlaid bands and four raised cicatrices (tribal marks) over each eye Coral necklaces. The hair in conventionalized bands of ridges, the ears unusually well formed  Benin The metal of this specimen is very thin, being only 1 mm in thickness [3 Drawings annotated 1/3 'Benin'] Added: Catalogue p. 34 fig 98 & 99'
George Pitt-Rivers and Dudley-Buxton's label reads:
Well-formed head in bronze. The forehead decorated with two inlaid bands and four raised cicatrices over each eye. Coral necklace. being a badge of rank. The metal is very thin being only 1 mm in thickness. The hair is conventional bands of ridges. The ears unusually well formed. Benin'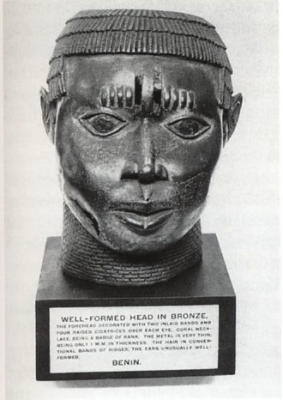 Here is another example of Farnham Museum documentation written on an object from the second collection, thanks to Michael Hamson for providing the information
AP, August 2010, updated September 2010.
Bibliography for this article
Waterfield, Hermoine and J.C.H. King. 2006. 'Provenance: Twelve collectors of ethnographic art in England 1760-1990' Somogy Art publishers, Barbier-Mueller Museum, Geneva