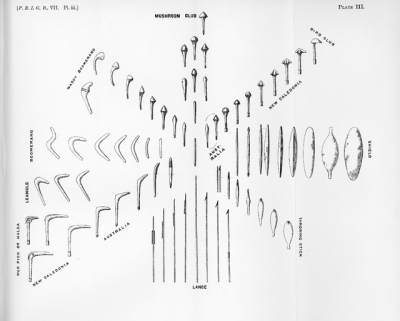 The Rethinking Pitt-Rivers website is an intrinsic part of the Leverhulme Trust-funded 3-year research project, Rethinking Pitt-Rivers. The website was created within a few weeks of the project starting in September 2009 and continued to change until end August 2012 when the project finished. [1] The initial design and construction and all subsequent changes have been carried out by Dan Burt, working with Haas Ezzet (the Pitt Rivers Museum's ICT Officer). The concept, overall shape and content was determined by the core project team, Jeremy Coote and Alison Petch, with Alison preparing all of the raw data including preparing the articles, databases and statistics except for that added by other members of the wider research team (especially Peter Rivière and Rachel McGoff) and contributors to the object biographies.
Much, if not all, of the raw data acquired during the research process has been made publically available on the site. Primary sources have been transcribed, including many of Pitt-Rivers more difficult-to-find writings; there is a full bibliography of Pitt-Rivers publications and other related works; information about Pitt-Rivers' life, and his activities each year; a series of articles written by the project team about aspects of Pitt-Rivers' life and work; statistics about his collections, information about all of the people who contributed to the collections; and a series of object biographies providing more information about some of the artefacts in his collections. Finally there are copies of six-monthly progress reports. The core project team is most grateful to the wider project team for their contributions to the site and staff and students at the Pitt Rivers Museum who have contributed object biographies.
In addition there are a series of catalogues which have been digitalised and made available on the website (for Pitt-Rivers collections, his art collection and his library), together with databases which provide additional information and make it possible to search for information within the catalogues.
The project team is enormously grateful to Bill Chapman who allowed us to publish his D.Phil on the website. His D.Phil, awarded in 1981, was on Pitt-Rivers' role in British anthropology gives much useful information about his influences, work, collections and intellectual development. His thesis was retyped by Katherine Burt into digital format for re-publication on the website.
Alison Petch, revised end August 2012
Notes
[1] Indeed it continued to change after that as pages which had not been completed by the end of the project were added shortly after. It is anticipated that all major pieces of information will be available via the website by the end of 2012.