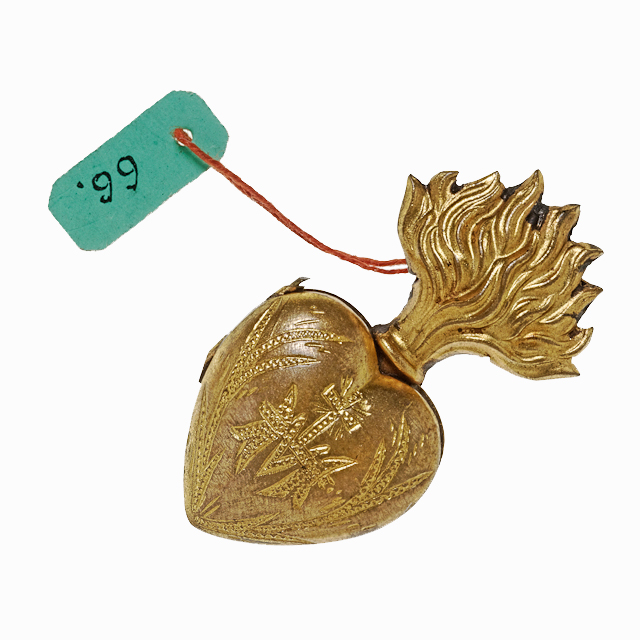 Transferred from the Wellcome Institute in 1985; 1985.52.33
This gilded metal Sacré Coeur or Sacred Heart is a Roman Catholic ex-voto from France. Ex-votos (from the Latin phrase ex-voto suscepto, meaning 'from the vow made') were – and still are – carried as devotional objects and to give thanks for granted wishes, prayers and intentions.
The cult of the Sacred Heart can be traced to the 11th century. It gained popularity in the 17th century when a French nun named Marguerite-Marie Alacoque experienced visions of Jesus Christ, in which he spoke to her and showed her his heart, entwined with thorns and flames and surmounted by a cross. She devoted herself and her country to the veneration of his heart, and established a Sacred Heart feast day.
In 1720, thirty years after Marguerite's death, the bishop of Marseilles consecrated his diocese to the Sacred Heart in an attempt to spare the district from a plague that was sweeping across Europe. The city quickly recovered from the outbreak, and the Sacred Heart became a popular emblem worn for protection against danger and disease.
During the French Revolution (1789–1799), patriotic Catholics again wore the Sacred Heart emblem for protection by stitching it to their clothing. It became the symbol of royalist counter-revolution for those who opposed the Republic. Today, the Sacré Coeur basilica in Paris, completed in 1914, stands over the city as a giant 'ex-voto': a monument to Catholicism and a symbol of national identity.