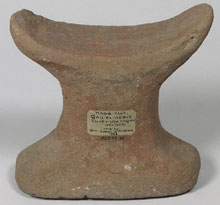 Headrest, Africa 1923.43.69
Selected Objects from the Lower Gallery
The objects in this gallery were all photographed as part of the Museum's 'What's Upstairs?' cataloguing project. Between September 2004 and December 2005, the cataloguers located, numbered, photographed and catalogued 40,000 objects in the Museum's Lower Gallery. The project also involved researching the objects displayed in this Gallery.
These gallery pages allow you to look at the photographs and descriptions of a selection of objects from the Lower Gallery. If you want to see the real things, they are all on display in the Museum.
Use the categories below to navigate around the gallery, or select a world region from the menu on the left.
| | | | | | | | | |
| --- | --- | --- | --- | --- | --- | --- | --- | --- |
| | | | | | | | | |
| | | | | | | | | |
| | | | | | | | | |
| | | | | | | | | |
| | | | | | | | | |
| | | | | | | | | |
| | | | | | | | | |
| | | | | | | | | |
| | | | | | | | | |
| | | | | | | | | |