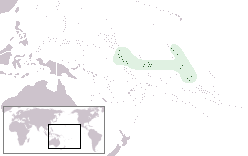 KiribatiCoconut fibre armour from Kiribati, Oceania. Collector not known. Owned by Harry Geoffrey Beasely. Given to the Museum by his wife Irene Marguerite Beasley in 1941.
This complete suit of armour comes from Kiribati (pronounced 'kiri-bass'), an island group in Micronesia in the Pacific. It is made of dense coconut fibre matting and the full ensemble consists of a cap, body armour, back plate, jerkin and leggings. The high back protected the wearer's neck and head from stones thrown by the women of his own side at the enemy.
The warrior holds a three-pronged weapon (taumangaria) edged with shark's teeth. He may also have worn undergarments, a porcupine fish helmet and ray skin cuirass on top. Fighting in all those layers must have been quite hot and restrictive and descriptions of duels mention each warrior having an assistant with him to help keep him upright.
The Art of War
The most highly developed armour in the Oceanic region came from the small Micronesian archipelago of Kiribati. Like the Santa Isabel shield, armour from Kiribati is rare and the Pitt Rivers Museum collection is among the most extensive in the world. One of the defining characteristics of Kiribati is its geography of low-lying coral atolls, meaning that very few raw materials were historically available. Consequently, the i-Kiribati armourer relied on ingenuity to overcome this natural obstacle. The coconut plant, as well as being plentiful, was thought to possess special protective powers. Therefore armour was woven from coconut fibre and often bore woven designs on the chest, either in a darker shade of coconut fibre, or in female human hair. These designs occasionally represented animals such as dolphin in a stylised form.
Fish parts were also employed in a number of creative ways: for the cuirass or war-belt, which is made from the incredibly hard skin of the stingray, which also provided a deadly barb used in the manufacture of daggers; the helmet (see object 1884.32.31) is made from an entire Porcupine fish, whose spines were poisonous although it is not known whether this was used to advantage in combat; and finally, the pronged weapon, the taumangaria, which is carved from three separate pieces of coconut wood, grooved to accommodate the teeth of the Tiger or Grey Nurse Shark. These teeth are drilled through and lashed onto the blade with the pinnules (side-ribs) of the coconut leaf or female human hair. When wielded, all i-Kiribati weapons were intended to open the enemy's abdomen or the major artery inside his elbow.