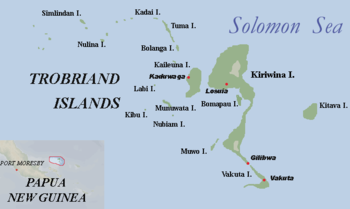 Trobriand IslandsSpatulate club from the Trobriand Islands, Oceania. Collected by Norman Hardy. Given to the Museum by Robert Willkins in 1900.
This spatulate club is also known as a 'sword-club' due to its flattened head and thin edges, enabling it to be used as a slashing weapon. This example is decorated with typical Trobriand scroll and zigzag designs, which have been incised into the dark wood then filled in with white lime.
Perhaps the most thorough and well-known study of Trobriands culture is provided by the anthropologist Bronislaw Malinowski (1884-1942). At the outbreak of the First World War in 1914, Malinowski was undertaking fieldwork in Papua and the Trobriand Islands. As an Austro-Hungarian in a British-controlled area he chose to remain in self-imposed 'exile' there for the duration of the war, rather than face internment. Subsequently he submersed himself in Trobriands life, living with local people, learning their language, conducting intensive ethnographic research and establishing theories of observation now central to the methodology of social anthropology.
According to Malinowski, such sword-clubs were widespread, although men carried them as an everyday item and never used them in pitched battles or out-and-out warfare, which was conducted in a very formal and organised way with spears and shields. Instead, clubs like this were the weapons of everyday skirmish and brawl. In a short article published in 1920 in 'Man', the journal of the Royal Anthropological Institute, Malinowski remarks that the principal provocations for disagreements between Trobriands men of the period were: arguments over garden boundaries, the ownership and wanderings of pigs, conflicts over the attentions and fidelity of women, breaches of formal etiquette, and the attacker's suspicion that the defender was a sorcerer - a common cause of conflict in many parts of the world [Malinowski, B. (1920) 'War & Weapons Among the Natives of the Trobriand Islands', Man, 20: 10-12].