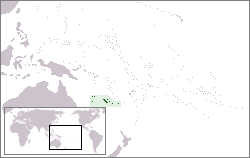 New CaledoniaHornbill-headed club from New Caledonia, Oceania. Collector not known. Transferred from the Oxford University Museum of Natural History in 1886.
New Caledonia is a French territory in Melanesia, situated in the southwest Pacific, midway between Australia and Fiji. The pointed-nosed 'face' appears widely in Melanesian art and although its origins remain uncertain, it has been suggested that the head was regarded as a symbol of Creation and thus a symbol of life and fertility. It is also asserted that the 'beak' may be that of the hornbill, a Melanesian totem figure and indicator of clan identification.
This club has tassels of red- and orange-dyed pteropus (fruit bat) hair bound to the handle. Red-dyed strings made from hair from below the ears of this animal were used as a medium of exchange or 'money' in New Caledonia and the Loyalty Islands, and as decoration for articles of value such as clubs and spears.