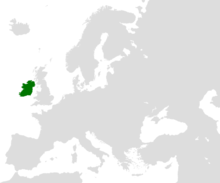 IrelandRock axe head from Ireland, Europe. Part of the Pitt Rivers Museum Founding Collection. Given to the Museum in 1884.
This thick and rounded polished stone axe head dates to around 3000-2000 BC. It was found during excavations near Ballyconnell, County Cavan, Ireland in 1951 and may have been obtained by General Pitt Rivers when he was serving with the Army in Ireland between 1862 and 1866.
It is made of the dark, basaltic rock used during the Late Neolithic throughout Ireland, western Scotland, Cumbria, Wales and Cornwall for heavy tools and weapons. Such axes were undoubtedly used in the increasingly common warfare of the Neolithic British Isles. However, they were more often used in girdling or 'ring-barking' trees in the mass deforestation of agricultural land and as ceremonial or ritual objects (similar examples have been found at the entrances to henge monuments). The lack of wear on this example seems to suggest it was used for the latter.