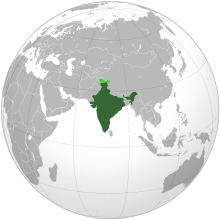 IndiaBattle axe from India, Asia. Collector not known. Lent to the Museum by the Board of Trustees of the Armouries in 1915.
Bhuj is the principal city of Kachchh district in Gujarat, north-west India. During the 18th century it became famous for its metallurgy and, in particularly, its enameled metalwork. The Rajas of Bhuj equipped their bodyguards and armies with highly ornate weapons such as this battle-axe. They were hung on the walls of the palace and paraded through the city by warriors riding elephants in procession.
This example features, between the haft and the blade, a gilded elephant head with a rolled-up trunk. The pommel is also gilded and forms a handle for a concealed dagger shown here. Both the blade and the handle are decorated in silver and gold in a style similar to the floral and leaf-shaped embroidery seen on silks and cottons in the area.