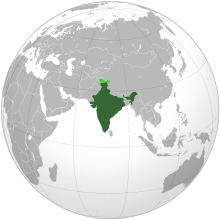 IndiaBlowpipe from India (or Bangladesh), Asia. Part of the Pitt Rivers Museum Founding Collection. Given to the Museum in 1884.
Although less well-known than the blowpipes of South America and Borneo, the blowpipe has had a long history of use in India. The Hindi word for blowpipe is navak, a word originating in Persia where it is known that blowpipes were in use by at least the 13th century.
Bamboo was widely used for blowpipes in Asia due to its availability and naturally straight and hollow stems. This bamboo navak is relatively short, under one metre in length. It is elaborately painted with floral patterns in yellow, red, gold and black and inlaid with mother of pearl and kingfisher feather. The ends are painted with geometric patterns.