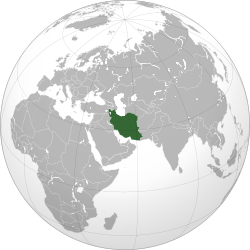 IranHelmet from Iran (Persia), Asia. Thought to have been collected by W. S. Jewshurst by 1941. Purchased by the Museum from Ipswich Museum in 1966.
This impressive-looking helmet is an early 19th century example from Persia (now Iran). It has a mail aventail made of two different metals forming a diamond pattern and the bowl features the image of a face, two horns and central spike. It is decorated all over with very fine plant patterns, small scrolls and stars painted in gold. The nose-guard is shown in resting position but would slide down over the face in battle.
The Beautiful Warrior
This early 19th century Persian helmet depicts the face of a pre-Islamic demon or Div. In the myths recorded by the author Ferdowsi in his 10th century work Shahnameh, the great Persian hero Rostam must complete seven labours in order to rescue his king Key Kayus, held captive by the Divs (demons) of Mazandaran. The final of these labours is the location and slaying of Div-e-Sepid (the White Demon), who is king of all the Divs. As Herakles (known as Hercules to the Romans) wore the skin of the Nemean Lion after he had killed it, so Rostam wore the face of Div-e-Sepid on his helmet. As such, this helmet symbolically suggests that the owner possessed the heroic and awe-inspiring qualities of Rostam, much as lion-like helmets in later centuries spoke to Europeans of the qualities of Herakles.
The concept of heroic chivalry has a long heritage in the Islamic world. One of the early cultural achievements of the Safavid Empire in 16th century Persia was reconciling two major strands of Islamic culture. These were Sufi mysticism and Shi'ia, the traditional veneration of ideal, heroic individuals who exhibited the qualities of nobility, self-sacrifice, purity of character, and generosity to their enemies in victory or defeat. This combination underpinned the civilised attitude to warfare that the Safavids exhibited, which in turn influenced the military ethics of later Mogul emperors.