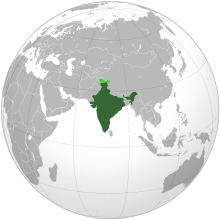 IndiaPata from India, Asia. Owned by the Maharaja of Jaipur. Transferred to the Museum from the Indian Institute in 1932.
The pata is a double-edged tapering long-sword with a katar-like punch grip inside an integral steel hand-guard and vambrace (arm guard). Said to be the most effective and hardest to master of all Indian swords, the pata was essentially a cavalry weapon used variously from the 16th to the 19th centuries by Moghuls in northern India, Hindu Mahrathas and Sikhs in the Punjab.
The Maharaja of Jaipur owned this example and the padded gauntlet is decorated with silver koftgari Hindu images. These include, on the visible side of the hand guard, Shiva, one of the principle deities of Hinduism - recognisable by his war trident - and, on the forearm section, the monkey hero Hanuman, who represents courage.