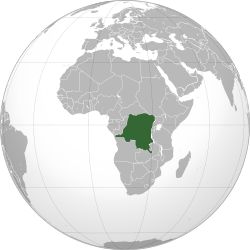 CongoIron headed spear from the Democratic Republic of Congo, Africa. Thought to have been collected by Louis Colville Gray Clarke. Given to the Museum in 1919.
This iron-bladed spear has a carved wooden shaft, iron butt and a handle covered with a patterned cloth. It belonged to a warrior of the Kuba Kingdom (1625-1900), a pre-Colonial Central African state in what is today the Kasai-Occidental (West Kasai) province in the south-west of the DR Congo (formerly Zaire).
Kuba men usually travelled armed with knives, and although men of the Bushoong clan used spears as emblems of ceremonial status at court, the plainness of this example suggests it was probably an everyday, practical spear.
The woven, raffia-pile velvet binding is of a type of textile known as mbal and is characteristic of Kuba art. Close-up, the design is a repeating, key-like motif called 'Woot', which alludes to a Kuba culture-hero and royal ancestor of the same name. Mbal textiles were prestigious and used in specific ways: for women they were used to create complete garments whereas for men they formed narrow bands and strips (as on this spear) that decorated less ornamental fabrics and objects.