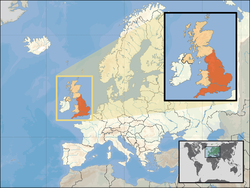 EnglandCeremonial halberd from England, Europe. Part of the Part Rivers Museum Founding Collection. Given to the Museum in 1884.
This English halberd dates to the 17th century. It is a ceremonial version of the practical polearm weapons that were in use two hundred years earlier. The red wool tassel here acts as insignia and decoration but tassels were originally intended to prevent the shaft becoming slippery with rainwater or blood.
Warrior Elites
Although similar in form to 15th century English military halberds, this weapon is entirely ornamental. The head has been cut from a single sheet of steel and is very light and flimsy compared with practical halberds of earlier times. The construction of the blade is schematic; it is almost a symbol of a halberd, rather than a real weapon - the blade doesn't have a real cutting edge and is only loosely attached to the shaft. It is quite easy, however, to recognise the three distinct 'spearhead', 'blade' and 'beak' parts. The spearhead part follows the model of a very wide Ox-tongue Pike, an antique British weapon at the time. This object is contemporary with the delicate rapier and small-sword so would have had a rather 'savage' and antique appearance three hundred years ago, highlighted by its elaborate red tassel and velvet-covered, brass-studded shaft.
This kind of halberd dates from the period of widespread abandonment of plate armour in Europe. Since halberds and other large weapons were primarily designed for attacking an armoured horseman, they rapidly became redundant. Under the 'New Discipline' that developed in European warfare during the 16th, infantry regiments gradually replaced their bows and halberds with muskets and pikes.
Polearms were abandoned by almost all soldiers, with the exception of the officers of infantry regiments, regiments of cavalry on ceremonial occasions (who tended to prefer lances), and the various groups of palace guards, yeomanry and militia who maintained civil peace. The latter performed an important duty since there were no police forces in Europe until the 19th century. Due to these associations with high-ranking officers, guards and peace-keepers, 17th century halberds became powerful symbols of status and authority.
This halberd is also an interesting example of how time seems to have stopped at a point in history, when the style of ceremonial weapons and dress became fixed. Even today, most of the weapons carried in European state ceremonies and their bearers' costumes, date back to this period. For example, the dress and weaponry of the English Yeoman of the Guard (or 'Beefeaters'), the Swiss Guard of the Vatican, or the militia of various German city states, have changed little since the 16th and 17th centuries.