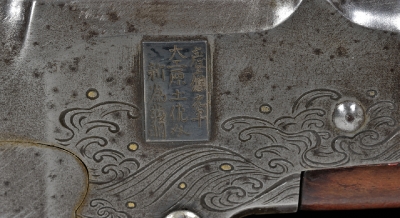 Close-up showing the inscription on the the falling-block carbineThis is a needle-fire falling-block carbine which illustrates a fascinating transition period in Japan's history.
From the beginning of the Edo period c. 1600, Japan had been shut off from the rest of the world. However, the Convention of Kanagawa, a treaty initiated by the US Navy in 1854, forced Japan to move away from its isolationist foreign policy and over the next ten years and a series of agreements, Japan began to participate in external trade, including the import of guns.
In the falling-block action, the breechblock slides back to open the chamber for loading with a paper cartridge. This system (famously used in the British Martini-Henry rifles of the 1870s) was first employed in the American Peabody rifle in 1862. This gun, which also features a sword bayonet forged in traditional Japanese fashion, has an inscription on the lock plate which indicates that it was made in Tosa province on Shikoku Island in 1865, by one Daikuhara Tosanosuke and was 'newly invented'. That such new technology was transmitted and recreated in so remote a spot as Shikoku so quickly when Japan was only just opening up to the West, suggests that Daikuhara was a talented and well-informed gunsmith.
Indeed, Daikuhara's flair as a craftsman caught the attention of the feudal lord of Tatsuoka (present Saku) where he lived. He was taken to Edo (present-day Tokyo) to get trained as a gunsmith. The lord of Tatsuoka was, at the time, in charge of the army. It seems that Daikuhara made several state-of-the-art guns presented by the Tokugawa shogunate at the International Exposition in Paris in 1867, which made their way into private collections in Europe. Pitt-Rivers acquired this one at auction.
Daikuhara is an unusual surname which translates as 'carpenter's field'. As of 2010, one of Daikuhara's descendants aged 88, was found to be residing in Saku. He owns this portrait of the man he believes to be his gunmaker ancestor.