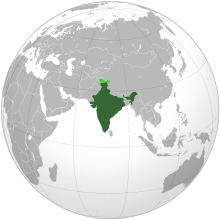 IndiaChar-aina from India, Asia. Collector not known. Lent to the Museum by the Board of Trustees of the Armouries in 1915.
This cuirass (body armour) is known as a char-aina after the Persian term meaning 'four mirrors'. It consists of four, hinged plates that wrap round the body and are held in place by shoulder straps.
This example is from Udaipur in North India and probably dates to the late 18th or early 19th century. Its colour scheme of gold and red are typical of the Hindu Rajputs. However, the floral damascened (engraved and inlaid) decoration on the border reflects the Moghul influence on Indian arts. The cuirass is accompanied by a matching pair of vambraces (arm guards), also damascened and padded with red velvet.