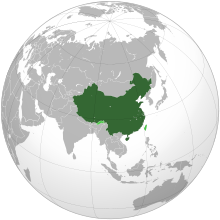 ChinaComposite bow from China, Asia. Collected by Henry Balfour. Given to the Museum in 1900.
This is an unbraced (unstrung) composite bow - that is, made out of a variety of materials - from Taiwan. Physically it is very similar to historical Chinese bows. The grip is wrapped in textile and the back (the side which faced away from the archer, visible here), is covered with bark painted red and yellow. The ears are veneered with ivory as far as the horn nocks. The nocks are the terminals, which have small notches for securing the string.
Form and Function
This bow is an example of the 'Tartar', 'Chinese' or 'Manchu' type, one of the two major kinds of Asiatic bow (the other being the Turko-Persian recurve bow, also displayed in this gallery). The Manchu bow is one of the most high-performance bows to ever be devised. The characteristic features of this type were a basic one-piece or 'self bow' base, reinforced with whalebone or horn at the belly, to reinforce the inner curve, and make it compression-resistant. To this was added a layer of stretch-resistant deer sinew across the back (the outer curve). This three-layer construction was sealed inside a wrapping of birch-bark, which protected the entire construction, and kept it watertight. The birch-bark covered arms of this bow were overlaid with card, which was then beautifully painted in restrained floral motifs and pictograms.
In this way, although the bow actually appears to be made from a single material, painted over with decoration, it actually has a very complex internal structure. Where the material of the bow is under the stress of compression, it is reinforced with materials that resist compression; where it is under the stress of tension, it is reinforced with materials that resist tension. This is the same kind of targeted use of materials which we see today on so many pieces of technology, whether it is the different parts of our running shoes, cars, bikes, and so on.
This bow also has distinctive bone 'string bridges' at the point of the 'deflex', where the arms, when strung, curve back to point forwards. String bridges are attachments that, like the bridge on a guitar or violin, effectively shorten the string and hold it a little further away from the bow's limbs. The bridges add weight but allowed the archer to shoot a shorter arrow at greater speed, while taking advantage of the force of a large bow. This had advantages both in hunting and warfare. String bridges were adopted by Chinese and Mongolian bows from the time of the Qing Dynasty (founded 1644) and until reforms early in the 20th century, skill with the composite bow was an essential part of the qualification for officers in the Chinese Imperial army.