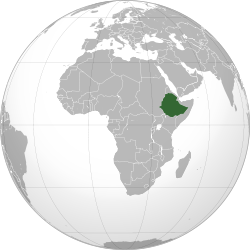 EthiopiaCeremonial shield from Ethiopia, Africa. Collected by Wilfred Gilbert Thesiger by 1920. Given to the Museum by his son Wilfred Patrick Thesiger in 1945.
Circular, conical shields are typical of Ethiopia. This is a ceremonial one, made out of hide, covered in red leather on the inside and purple velvet on the outside, which has now faded to brown. It is profusely decorated with brass bands, bosses and pierced panels.
Shields such as this indicated the owner's status and courage in battle and were also given by the Ethiopian emperors to provincial governors. Accordingly, this shield was given to Wilfred Gilbert Thesiger who was Consul-General in Abyssinia from 1909 to 1914 and father of Wilfred Patrick Thesiger, the famous explorer and travel writer.