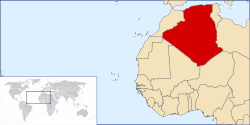 AlgeriaFlissa from Algeria, Africa. Part of the Pitt Rivers Museum Founding Collection. Given to the Museum in 1884. 
This flissa or flyssa is the distinctive weapon of the Kabyle Berber people of Algeria. Since they vary in length they are sometimes classed as swords, sometimes as knives. Unlike many North African swords which are fitted with European blades, the flissa blade is without exception of local manufacture.
Such weapons were used to break open chain mail, which was still worn in this part of the world until the 19th century. The blade is single-edged for cutting but also has a tapering point for stabbing. This typical example has an octagonal grip, animal head pommel and decoratively incised blade.
Sacred Weapons
The unusual concave section along the flissa's cutting edge has drawn much attention from art historians. Some have argued that this shape shows the particular ancestry of the flissa, which they believe copies the shape of concave-bladed Ancient Greek swords called machaira, such as those used by the armies of Alexander the Great. It doesn't seem impossible that this form of sword could have been brought to Algeria by the Carthaginians, who were themselves of Phoenician origin. In saying this, it should also be noted that the flissa hilt is similar to that of Arabian-Persian-Indian shamshir swords so it is not beyond doubt that it had it's origins further east.
As well as the blade shape, the species of animal depicted on the flissa hilts has also created much academic speculation. Some scholars have argued that the species of the animal is unimportant; what is important is that their eyes are always exaggerated in size. Both the animal-headed pommel and the brass-inlaid geometric decoration on the hilt and blade, have magical power. All of the decoration on the sword serves to protect the wielder against the Evil Eye.
The Evil Eye is a major concern for Berber and Islamic North Africans alike. It is believed that the first jealous glance of another person, cast on someone or their possessions, is dangerous to them and will bring them misfortune. Such decoration is applied to many manufactured objects in the region. The general idea behind such decoration is to depict something repulsive, pointed, or an eye or hand, with which one can repel, pierce or deflect the Evil Eye. For example, the individual triangular motifs on the back of this sword's blade represent clothes pins (fibulae), which are understood to pierce the Evil Eye, while the zigzag line motifs represent a snake, which then drives it away. The glare from one eye is believed to repel that of another so the animal-headed pommel has been cast here with large eyes.