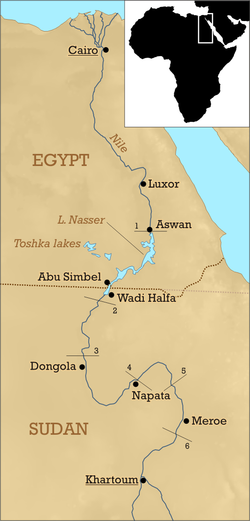 NubiaKpinga from Nubia, Africa. Thought to have been collected by Rev. F. Darling. Purchased by the Museum from Mr. G. O. Hughes in 1915.
This is a throwing knife or kpinga of the Azande people, originally of Nubia, an ancient kingdom in the area covering southern Egypt and northern Sudan. Kpinga have three sharp blades of different shapes and this example has small barbs on its flat plate tang, which might have secured a now-missing handle binding. Even the front edge of the main shaft is sharpened.
Such weapons possessed strong cultural significance for the Azande. They were considered 'Court Metal', that is, weaponry produced only under the patronage of the powerful Avongara clan, and then distributed to the regiments of professional warriors in wartime. During large-scale warfare, full-time regiments were swelled by all able and willing adult males, and in this situation, the kpinga was a powerful symbol marking out the professional soldier from the land army. Kpinga were also closely associated with the masculine power of the Zande warrior, and were part of the marriage price paid by an Azande man to the family of his prospective wife.
Form and Function
Kpinga are one of the few undisputed functional African throwing knives, with considerable documentary evidence of their use in battle. They are one of the southern 'winged' types, which are more aerodynamic than the northern 'F-shaped' types (the latter are also on display in the same case in the Museum).
Kpinga were carried into battle in a very specific way; inside large, oblong Zande shields. The back of these shields feature a central iron disc over which, traditionally, four kpinga were hung. When the Azande went into battle, they would close on the enemy to wiithin about ten metres. The warrior threw two to four spears before releasing his kpinga. This action was always preceded by a call to alert companions to what he was doing, to show he was not simply throwing this valuable weapon away in the bush. Since Zande warfare rarely progressed to furious hand-to-hand engagement, it is possible this call was also a 'fair play' warning to all.
The kpinga was thrown in a particular way depending on its target. The presence of three blades set at different angles ensured that at whatever point it struck it was sure to inflict some damage, the large blade effecting a slice and the smaller blades delivering punctures. Even a blow by the blunt handle might cause considerable impact injury. The weapon was first bent slightly under the foot, and then either thrown over-arm, almost vertical, so that it flew at head height in a curving arc, or under-arm, almost horizontal, so that it flew at knee-height. It seems the skill in avoiding the former was crouching behind the tall, three-quarter length shield, while avoiding the latter involved a more acrobatic and well-timed leap. It has also been said that African throwing knives were also thrown in the low fashion in order to sever the legs of cavalry horses. Even if a high-thrown knife caught on a shield it might cut through it or rebound into other warriors nearby.