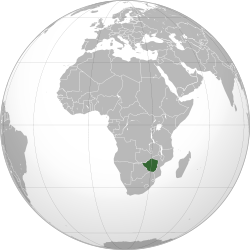 ZimbabweBakatwa from Zimbabwe, Africa. Collected by H. W. Garbutt. Given to the Museum by David Randall MacIver in 1905. 
The bakatwa is a double-edged sword of the Shona people of Zimbabwe, used in religious ceremonies. This example dates to the 19th century. It has a distinctive blade, one half being recessed and painted a dark colour, a carved ebony scabbard and a hilt plaited and bound in brass wire.
Sacred Weapons
In historical times, all Shona men carried a knife or sword of some kind, for use in self-defence and hunting. The ceremonial bakatwa can be distinguished from everyday Shona blades (known as banga) because of its double-edged form and the intricate woven brass wire decoration on the hilt. This weapon was accorded a high level of prestige in traditional Shona religious practice.
Bakatwa were and are passed down from generation to generation in a lineage, and were used in religious rituals to symbolise the presence of the owner's ancestors, the sword's previous owners. In these rituals, the owner addressed the bakatwa as if it was the physical embodiment of his ancestors. This link between the spirits and these swords also meant that n'angas (diviner-healers) and svikiros (spirit-mediums) carried them as the insignia of their profession. Certain Shona hunters were traditionally believed to be under the spiritual influence and guidance of deceased hunters, known as shave spirits, so they also carried bakatwa as a symbol of their spirit ally.
The traditional carrying of plainer, more functional swords as everyday weapons dwindled under the influence of Christian missionaries. The Government also launched drives to prevent men travelling armed during the civil unrest of the 1970s. This meant that knives and swords were largely restricted to ceremonial use. However, bakatwa have enjoyed something of a renaissance in recent years, as symbols of traditional cultural identity and Zimbabwean independence from British imperialism. Some recent examples of bakatwa have even been forged to resemble AK-47 machine-guns, with the blade sheathed inside the gun's barrel.