Thesiger's Journeys in Arabia - United Arab Emirates and Oman Winter 1949-50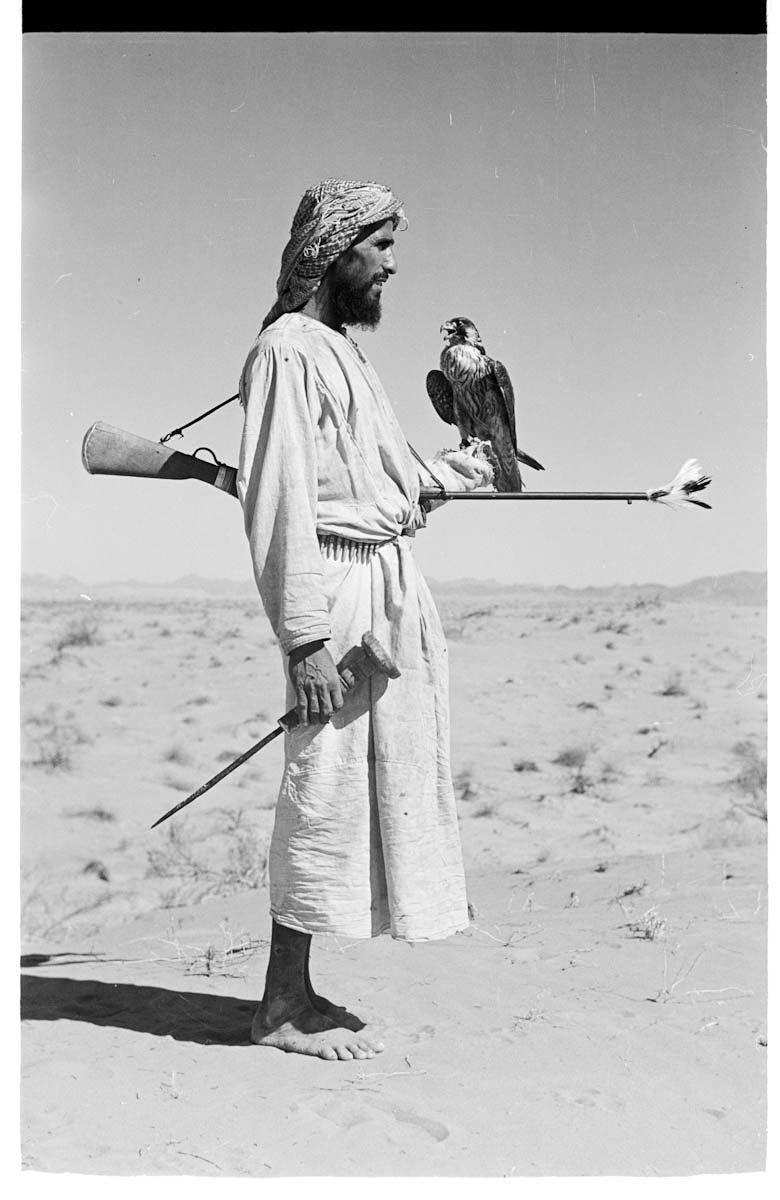 2004_130_25354_1-OJourney dates: November 25, 1949 – April 1950
When Wilfred Thesiger returned to Dubai in November 1949, he arrived determined to find a way into the interior of Oman. Despite the open hostility Thesiger had experienced during the previous year's expedition, he returned confident that he could find a way to negotiate a route through interior Oman and his ultimate destination: Jabal Akhadhar, the Green Mountain.
After a short stay in Dubai, Thesiger arrived at Al Muwaiji Fort in early December 1949 as a guest of Sheikh Zayed bin Sultan Al Nahyan, then the Ruler's Representative in Al Ain. Thesiger's Rashid Bedouin companions Salim bin Kabina, Muhammad bin Kalut, Salim bin Ghabaisha and Sahail bin Tahi, were already awaiting him at the fort, along with Muhammad bin Al Jabari, a tribesman of the Awamir Bedouin. From December to January, Wilfred Thesiger and his Rashid companions joined Sheikh Zayed's hunting party. Travelling in the sands surrounding Al Ain and Jabal Hafeet, Thesiger spent much of his time hunting hare and MacQueen's Bustard, taking a remarkable series of Arabian falconers hunting with peregrines and salukis.
In early January, Huaishil, sheikh of the Mahamid lineage of Duru Bedouin, arrived at Al Muwaiji Fort with a few other Duru and the expedition departed. Starting on January 12, the party headed southwest to Tawi Uqayr, then south to Wadi Samhan, where the party was held up by a hostile party of Duru Bedouin and forbidden to continue. After days of increasingly hostile negotiations, Thesiger decided to travel west to the Ramlat ar Rabbad sands, beyond Duru territory, and remain there temporarily until they could arrange further support.
By February 12 the party had reached the Wadi al 'Ayn. With the assistance of Ali bin Hilal, head sheikh of the Duru Bedouin, the party continued south, arriving near Al Hubi on February 22. There a force of over one hundred armed townsmen loyal to the Imam of Oman met Thesiger's party, and they were forced to retreat to Mamur in Junuba territory. Although last year the Imam of Oman had pardoned Thesiger's trespass into Oman, this year's expedition would receive no such favor. Days of negotiations ensued, but the result remained the same. Thesiger's party turned back at Mamur, continuing through Oman via Wadi al 'Ayn and Wadi Samhan, to arrive back at Al Muwaiji Fort on March 11, 1950.
This would be Thesiger's last major Arabian expedition, and he found it a melancholic one. He wrote, 'I knew that I had made my last journey in the Empty Quarter and that a phase in my life was ended. Here in the desert I had found all that I asked; I knew that I should never find it again' (Arabian Sands, p.310).
During March and April 1950 Thesiger continued traveling in the Emirates, visiting Sheikh Saqr bin Mohammed Al Qasimi in Ras al Khaimah, and staying with Ronald Codrai in the city of Dubai, before continuing on his travels elsewhere.
Named Individuals: Alaiwa bin Lutaiya, Hamad [Hamad al Mahri], Huaishil, Muhammad bin Al Jabari, Salim bin Ham, Salim bin Kabina, Muhammad bin Kalut, Salim bin Ghabaisha, Sheikh Saqr bin Mohammed Al Qasimi, Sheikh Zayed bin Sultan Al Nahyan, Wilfred Patrick Thesiger.
Represented Cultural Groups: Rashid Bedouin, Awamir Bedouin, Duru Bedouin, Junuba Bedouin, Mahra Bedouin, Bayt Kathir Bedouin.
Locations: Dubai City, Shindagha Beach, Al Ain City, Wadi Samhan, Ramlat ar Rabbad, Masruq, Al Hubi, Abu Dhabi City, Al Maqta, Ras al Khaimah, Jazirat Al Hamra,
References:
Wilfred Thesiger, 1950. 'Desert Borderlands of Oman', The Geographical Journal, Vol. 116, No. 4/6.
Wilfred Thesiger, 1960. Arabian Sands, Longmans, Green and Co Ltd: London.
Images: