Sheikh Zayed bin Sultan Al Nahyan (1918–2004)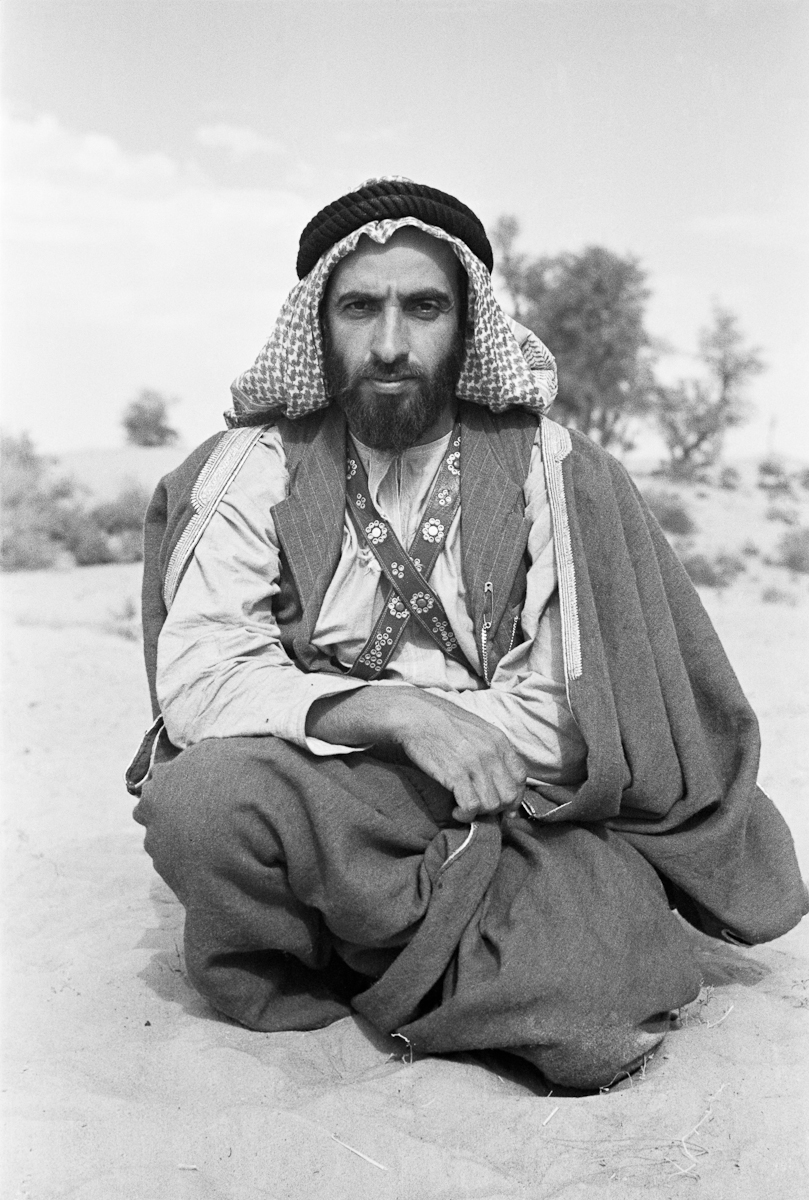 Seated portrait of Sheikh Zayed bin Sultan Al Nahyan resting in the sand in Al Ain.Wilfred Thesiger first met Sheikh Zayed bin Sultan Al Nahyan in Al Ain during the spring of 1948, just after he had completed his Second Crossing of the Empty Quarter. Then stationed in Al Ain as the official Representative of the Ruler of Abu Dhabi in the eastern region, Sheikh Zayed welcomed Thesiger with open arms. Over the next two years, Sheikh Zayed proved to be one of Thesiger's biggest supporters, furnishing Thesiger with the best guides and the finest camels, negotiating Thesiger's entrance into Oman, and hosting Thesiger at Al Ain each winter season between 1948 and 1950.
Thesiger and Sheikh Zayed shared a love of outdoor pursuits, and Thesiger frequently accompanied Sheikh Zayed on hawking expeditions into the desert surrounding Al Ain. Sheikh Zayed was a talented sportsman, and Thesiger found Sheikh Zayed's talent with traditional Bedouin skills such as hunting, shooting and riding very admirable. In Arabian Sands, Thesiger described Sheikh Zayed as 'a powerfully built man of about thirty with a brown beard. He had a strong intelligent face, with steady, observant eyes, and his manner was quiet but masterful' (1960: 250) It is hard to imagine that Thesiger would have been able to undertake his 1948–9 and 1949–50 Oman trips without Sheikh Zayed's generous assistance.
In 1966 Sheikh Zayed succeeded his brother Sheikh Shakhbut bin Sultan Al Nayhan as ruler of Abu Dhabi, and a few years later in 1971 he became the founding President of United Arab Emirates. Sheikh Zayed remained Ruler of Abu Dhabi and President of the United Arab Emirates until his death in November 2004.
References
Wilfred Thesiger, 1960. Arabian Sands, Longmans, Green and Co Ltd: London.
UAE Interact, 2005. Zayed bin Sultan Al Nahyan: A Special Tribute. Ministry of Information and Culture, Abu Dhabi. http://www.uaeinteract.com/ uaeint_misc/pdf_2008/index.asp
Photographs of Sheikh Zayed bin Sultan Al Nahyan