Musallim bin Al Kamam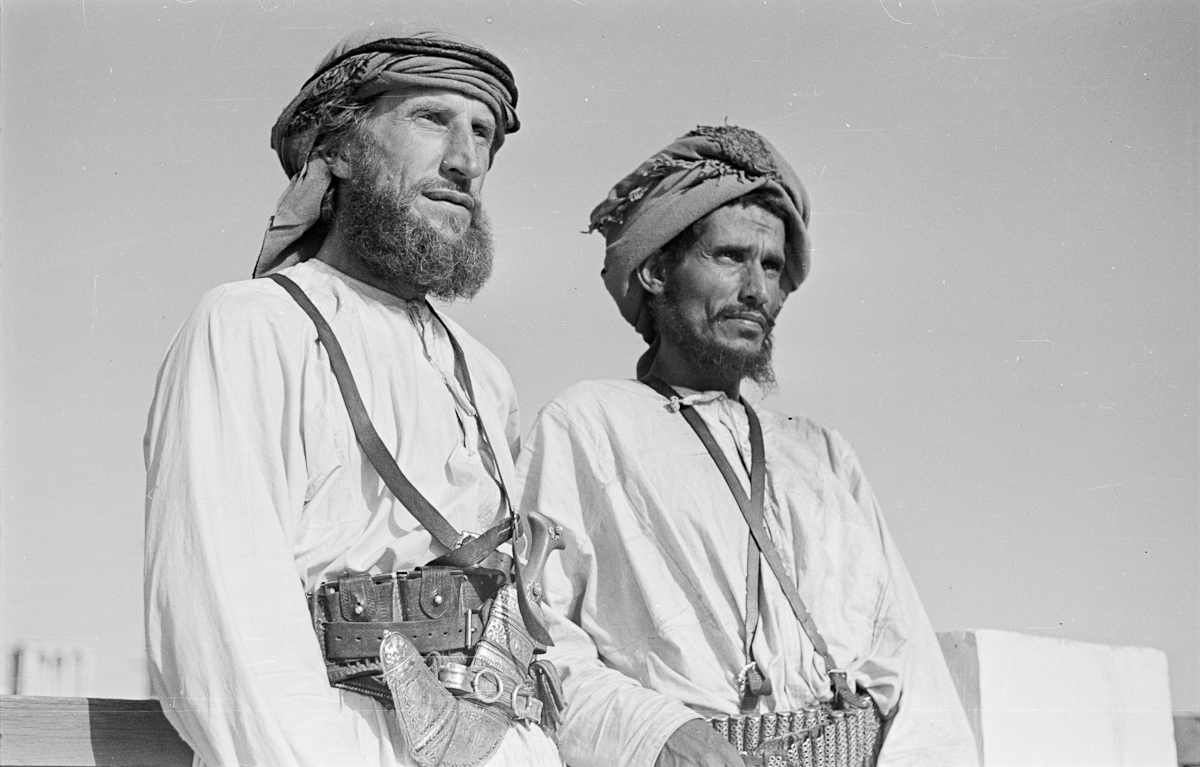 Standing half length portrait of Wilfred Thesiger and Musallim bin Al Kamam on a rooftop terrace in Dubai.Wilfred Thesiger first met Musallim bin Al Kamam, a sheikh of the Musaifar lineage of Rashid Bedouin, at Qafa' Oasis during his 1945–6 journey from Salalah to Mughshin. Thesiger liked Musallim bin Al Kamam immensely, and immediately arranged for Musallim bin Al Kamam to join his next travelling party leaving from Salalah in the spring of 1946.
Described by Thesiger as a man 'with a quick receptive mind and a relentless spirit which drove him so that he was the most widely travelled of the Rashid' (1960: 169), Musallim bin Al Kamam was also renowned amongst Bedouin tribes for his skills as a peacemaker and negotiator.
Thesiger found Musallim bin Al Kamam to be 'a companion of great charm and exceptional intelligence' (1950: 139), and later wrote 'I had liked him greatly when we had been together, and found him an amusing companion, quick to tell me anything that he thought might interest me' (1960: 169). Musallim bin Al Kamam accompanied Thesiger on his 1946 journey from Salalah to Wadi Hadhramawt, the 1947 journey from Salalah to Al Mukalla, and the 1948–9 journeys through the United Arab Emirates and Oman.
References
Wilfred Thesiger, 1950. 'Desert Borderlands of Oman', The Geographical Journal, Vol. 116, No. 4/6.
Wilfred Thesiger, 1960. Arabian Sands, Longmans, Green and Co Ltd: London.
Photographs of Musallim bin Al Kamam