S&SWM PR papers L1437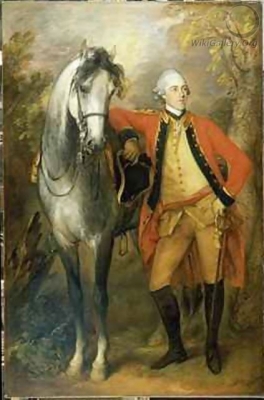 Horsley | Ansd  Dec 15/95
Royal Academy of Arts | London W. | Dec 2 1895
Dear General Pitt Rivers,
I am venturing to address you informally, trusting that you may not have forgotten my visit to Rushmore, with our mutual friends Sir Talbot and Lady Baker not many years since! - you will also remember most kindly lending us [insert] here [end insert] those charming Gainsboro' portraits in 1881. They live so delightfully in our memory here that we are most desirous that Lord & Lady Ligonier should grace our walls again, & if you will be so very good as to let the art loving public see them in our approaching Winter Ex'n, we shall be greatly obliged. You will perhaps remember that we bear all trouble & expenses in their removal from, & return to Rushmore & insure them from all risks. If you will kindly let me know (may I ask for a prompt reply?) that you will grant us this favour, our Secretary will then immediately communicate with you officially on the subject. With best compliments to Mrs Pitt Rivers & yourself believe me
Yours very truly
J. Callcott Horsley
---------------
L1443
Horsley | 3 times put forward
Royal Academy of Arts | London W. | Dec. 6th 1895
Dear General Pitt Rivers
Forgive me saying that your note of this morning was a crashing blow to me & pray pardon me if I venture to urge your reconsideration of the matter! - I do this with less hesitation at your words "but I am afraid I shall not be able to send the two pictures again", are so gentle in their expression that I would fain hope they do not carry a determined decision in them! - Pray believe that I fully sympathise with the self denial of those who in the public interest sacrifice their own pleasure for a time, in parting with art treasures, &no one can have shown more generously liberal interest in catering for public enjoyment than you have done, in many many ways - it is fifteen years since we had your two beautiful pictures, & I have for several years been desirous to see them here again especially as my age precludes the idea that I can deal with "Winter Exns" much longer! This year they have never been absent from my "mind's eye" & I have [illegible] splendid positions for them in the great Gallery - you must therefore kindly forgive me if I throw myself upon the "merciful consideration" of Mrs Pitt Rivers & yourself, & live in hope that you will grant me what I ask, if granted, I may safely promise to cease from troubling you in the future! - To save you all trouble I enclose an addressed telegram, should you be inclined to send me your final decision in the course of tomorrow - should you prefer writing by post will you kindly let me hear by Monday morning as time is pressing us now -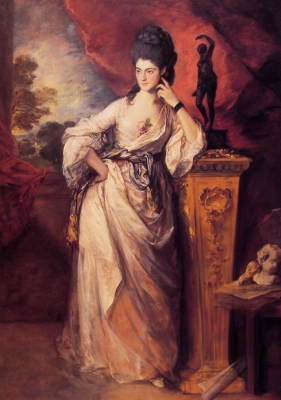 With best remembrances believe me I am General Pitt Rivers
Yours sincerely
J.C. Horsley
Horsley had much to do with organizing the Winter exhibitions at the Royal Academy after 1870. It is not known if Pitt-Rivers did loan the portraits again, or exactly when they had been exhibited at the RA before though the second letter suggests it was shortly after Pitt-Rivers inherited the paintings in 1880.
The portraits of Lord Ligonier, actually Edward, 2nd viscount Ligonier, and Lady Ligonier are now held at the Huntington Library, in San Marino, California, USA.
Transcribed by AP June 2011