Rachel McGoff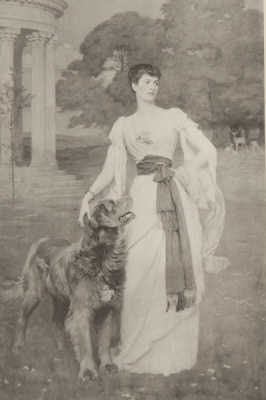 Biographers have generally been disparaging of Pitt-Rivers' character and family life. Thompson describes his marriage as 'a stormy one', making inferences about the General's 'moody and irascible disposition' from the scant reports of those who knew him, such as the letters of his wife's family, the Stanleys. He also points out the frugality for which Alice Pitt-Rivers was apparently notorious in later years. [1] Bowden comes to similar conclusions, citing a letter from the 1870s indicating a strained relationship between Pitt-Rivers and Alice:
'I fear that you are utterly without heart… My reason for writing about it now is the hope that at a time when more amicable feelings exist between us you might be induced to listen to what I say but I have little hope however for us. Somebody said to me the other day about you 'You must be well aware that nothing which is said to Alice produces the slightest effect' and it is quite true. It is not my fault that I am not richer but there is no reason why poverty should be made such an awful curse as you make it… your temper is the cause of all the misery between us… for I do not believe this – more stoney hard hearted woman never existed and that… you have never in your life known what affection meant… To me the loss of family affection is everything as I care but little for the society of strangers but by you it is little felt as your whole education and disposition has fitted you for society and not for family… I do hope also that you will avoid the evils of your own education in your children. They have most of them good feelings naturally and sympathy for others but I fear that cold blooded heartlessness has already deadened it in some of them… the last time you were at home you appear to have controlled your temper a little owing to my having kept as much as possible out of your way… I assure you that for the last four years now you have made my life a perfect curse to me… [2]
Such evidence makes it undeniable that there were tensions in family life, many of which seemingly arose from the differing backgrounds of Pitt-Rivers and Alice and concerns over money (this was certainly a subject of contention between Pitt-Rivers and his children later in life). A scarcity of relevant sources, however, means the negative judgements that have been made about the family life of the General are dubious. The diaries and letters of the General's daughter Agnes suggest that much of the family were quick tempered and prone to altercations, however, a great deal of what she reports seems to be typical of tensions between parents and teenaged children, and does not suggest an consistently unhappy home life.
Agnes Geraldine Fox-Pitt was born in 1863, the seventh of the nine children of Pitt-Rivers and Alice. She was educated at Oxford High School (the only one of his daughters known to have been educated at school rather than privately at home). She married Walter Grove, from the Ferne estate neighbouring Rushmore, in 1882 following a long wrangle between their families. The couple had four children. The Grove family was Radical in its politics and Walter's father Sir Thomas Grove was a Liberal MP. Agnes herself was a devoted Liberal and meet Gladstone in 1887. She was active in the woman's suffrage movement and also campaigned against vivisection and vaccination (she was taken to court and fined in 1905 for failing to have her son vaccinated without registering a conscientious objection) and wrote her book The Human Woman in support of female suffrage. Agnes kept diaries throughout her life and was mentored in her writing career by Thomas Hardy who she first met at Rushmore in 1895. From the 1890s she wrote regularly for periodicals such as the Cornhill Magazine and the Fortnightly Review, and in 1903 began a monthly contract with the New Review. She published four books 71 Days Camping in Morocco (1902), The Social Fetich (1907), The Human Woman (1908) and On Fads (1910).
Agnes' life charts the fortunes of the declining aristocracy in late nineteenth and early twentieth century Britain. In her younger years, particularly after her father's 1880 inheritance, her life was one of society balls and visits to her aristocratic circle of acquaintances; she attended several of Queen Victoria's 'drawing rooms' and spent much of the season in London, frequently travelling between Rushmore and the home in Grosvenor Gardens to keep up with social events. She took an extravagant honeymoon with Walter, travelling around Cornwall and then spending three months in the USA, where they mingled with New York high society such as the Vanderbilts, the Hewitts and Mrs Thurber. Their married life, however, was plagued with money troubles and keeping up the lifestyle they were accustomed to often put them into debt; frequent appeals were made to both Pitt-Rivers and Sir Thomas Grove for money. After Sir Thomas' death in 1897 Walter succeeded to the baronetcy and inherited the Ferne estate and numerous other properties. The sale of Ferne provided them with money for a while, but by the end of Agnes' life their financial situation was dire, and both lack of funds and Agnes' health preventing her from enjoying the social life she had been accustomed to. She wrote to her daughter Oenone about her boredom at this time: 'Going nowhere, seeing no-one. We can't go to Ruth's party as there is no sign of the motor nor likely to be.' Her society days were long past and she wrote of the few days she spent in London in 1924, 'I did not enjoy any of my trips, it was save and scrap the whole time'. [3] A small windfall of £500 came with the death of Walter's aunt in 1925 and Agnes wrote that it 'will just about and only just clear our local debts, the butcher and the coal man both owed several hundred.' [4] Agnes was diagnosed with tuberculosis in 1906 and it finally killed her in 1926, she was survived by her husband.
The diaries of Agnes youth reveal glimpses into the home life of the Pitt-Rivers family and her life was fairly typical of that of a society lady. Their social circle seems to have consisted principally of family members, and Agnes was particularly close to her maternal aunt Maude Stanley as a teenager. Aunt Maude provided her with support during the fraught negotiations over her marriage and Agnes seems to have joined her in charity work, which she mentions on a couple of occasions: 'mean to do some work for Aunt Maude's poor' [5] and 'and then to see some poor people. Aunt Maude wouldn't drive up to their door because she said it would look ostentatious!' [6] The active social life of Agnes and her siblings suggests that Rushmore was frequently host to guests and that the family constantly attended events when in London, including lectures which she presumably went to with her father.
An entry in Agnes' diary from about 1882 gives an idea of a typical day in the Pitt-Rivers' household.
2nd Monday. 9-10 Prayers, breakfast. 10-11 Practising and seeing others off riding. 11.10-12.15 Reading in my room, my hour, and mooning – thinking of Walter. Blaming myself really must not moon. 12-12.15 Still in my room, went down to drawing-room, pretended to read to Mama. Talked, about allowance. 1. Luncheon, still allowance, 2. Doctor came. 3. Went out driving in pony carriage with Mama. Went to see News, Rose, Bennett etc. gardener's wife, child ill. Drove rather badly till 4.30. Measured my room, talked to Douglas. 5. Wrote to Aunt Maude. Tea. 6. Talked to Alice about people coming here, and what she had done at Ferne. Walter wanted some girls – I thought quite natural. I could not dance with him the whole time. Went downstairs, came up again, went to workroom. Went to drawing room, talked about servants, wanted them sent away. 7 o'clock Dinner. After Dinner Mummers came, we all laughed. Still making a noise downstairs. 11.30 shan't be able to sleep. In the meantime I talked to Lionel – girls. Went and reread Aunt Maude's letter at 11. [7]
The year 1882 was one of fraught relations with her parents, who she refers to in her diary as 'the Man' and 'the minor one'. In one incident she refuses to travel in the same carriage as her father:
'Feb. 28. [1882] I did not go to the lecture because I should have had to go alone in the carriage with the Man as far as Mortimer House, and as he had been very disagreeable to both Alice and I we both refused to go. [8]
The General often seems remote from these domestic situations, being mentioned fairly rarely in the diary compared to her sister Alice and her mother. This period would have been a difficult one for Agnes as it was then that her engagement to Walter was being debated. Pitt-Rivers and Sir Thomas seem to have been unable to agree over providing a suitable income for the couple to live off and it seemed at several points the engagement would not be allowed to go ahead. Agnes was banned from contact with Walter during this period and communicated with him secretly through her siblings. She was an eighteen-year-old girl desperate to be married and leave the parental home as she had seen her brothers and older sister Ursula do, these frustrations are expressed in a letter to Walter from around April:
I feel so helpless and I think if only I were a man, how different things would be. I would have long since quitted the paternal roof and wandered out like St. George has done, and made my fortune by some gigantic stroke of genius which is now pent up in my unfathomable brain and senselessly thrown away upon a female woman! [9]
It is no wonder that there were arguments at home, a letter from Walter to Agnes in March 1882 hints that she had a temper:
Kathleen [Walter's sister, to whom Agnes was close] has told me you and Alice had made up yr. minds to treat the General's impertinences with the silent contempt they deserve. I bet two to one you don't my darling. You are far too much of a pepperpot to bear unpleasant remarks in silence [10]
Agnes' accounts of the arguments point to typical domestic issues and her frustrations over her engagement rather than any deep-rooted unhappiness, she wrote in 1882:
March 1st. Drawing till one, then I went to see Edith S dressed for the Drawing room. [Queen's drawing room?] The after luncheon Alice and I (and Doug) wanted to go to Barkers, and Mama said she did not choose us to go. We said we would as we were not babies to be ordered about like rats. So the Man joined in and swore like anything at Alice. Of course I took Alice's part so he began on me, so we went out of the room when it was over, straight to Barker's. Then I ordered a gown and different things and then we came back – a gloomy dinner! Poor Alice – I have a faint chance of escape from this tyranny and misery but she seems to have none as yet, but I am certain Providence could not in justice allow her to go on much longer in this place. I only wish, oh so much, that my fate could be decided. 
2nd. 'I arranged my room till the dressmaker came and then there was a row about that. It's so degrading – fancy not being able to order what one likes.' [11]
Their open defiance by going to the Barkers' anyway reveals that the children were not scared of their parents, and a different account of how she laughed at the General's anger and the quickly made up with him suggests the same:
'Got up rather late. On account of hearing a row going on when on the stairs, I refrained from going down further – therefore I went without breakfast but it did not do much good. I was flown at at luncheon and bored to death almost, having already had it pretty severely from the minor one all morning. I was told to write and tell you not to come to the ball, which I did, but I was in hopes you would, so I went.
In the afternoon I was just going to the lecture when Mama, who had been hatching stories to Papa all the time, suddenly hit upon an unfortunate phrase of mine, 'The Man has no heart'. He tramped up and said 'You go to not a single place the whole of this season' about a dozen times, nothing else varied it. Occasionally 'You don't go out once this season, mind you' etc. etc.
I am seldom amused at his rows but this did amuse me, and as he was tramping down again until I was all trembling with the suddenness and unexpectedness of the whole thing. I tried to stammer out something about his being so good and kind on the contrary, when the sense of the ludicrous presented itself to me and I broke down in a hopeless giggle! It's about the only time I've not flown into a temper when he's been violent, and made matters ten times worse, but this did seem so ridiculous I couldn't be angry. So I made up! [12]
Following her marriage settlement and in adult life relations with her parents seem to have been amicable, she continued to spend a lot of her time at Rushmore and the neighbouring Ferne. Her images of Rushmore are of a lively place full of family and guests:
… I took the children up to Rushmore yesterday. Ursula and her 3 children were there and Alice and her 3 children, so there were 9 grandchildren altogether, P.R. said he thought I was 'looking very ill' as usual! That I must take care and 'lie up'. What for? He is very excited about the picture.
We are just off to pic-nic at the Larmer… [13]
Pitt-Rivers' remark is typical of a parent, and the news that he is 'excited' gives us a rare glimpse of liveliness. The picture to which Agnes refers is her portrait by Fred Beaumont, which was exhibited at the Royal Academy in 1892. There were tensions over money, but these were not unique to the Pitt-Rivers side of the family, as her diary entries from 1888, when she was pregnant with her third child and under pressure from creditors, show:
Dec 1. I lunched at Rushmore and had talk £P [i.e. money with Papa]
Dec 7. We lunched at Rushmore and went to Ferne, talked to Sir T. about money matters.
Dec 9. I drove the children up to Ferne. They were insulted. [14]
A letter to Pitt-Rivers on the same subject is formal in tone:
Dear Papa,
I make one final appeal to you to know if you intend to yr distinct promise made to help me with the 'gifts' of money beyond the £200 a year settled on me. You said to me the other day, that you were 'exceedingly sorry for the narrowness of our means', but that you had 'made a very liberal offer and that if Sir Thomas refused to accept it the odium rested with him'. Now since then Sir Thomas has consented to pay Walter's debts again, and in addition give him £50 a year more if you would do the same. But I cannot and will not ask him to pay my debts incurred solely on my own responsibility in the belief that you would keep your word when you told me of yr. own accord that you would from time to time give me gifts of money which would be equivalent to the £100 a year that you have withdrawn.
That you made this promise there is no denying as I have a letter from you in which you refer to it, reminding me that 'at yr. death these presents would of course cease', and which promise made you have given me no reason to suppose that through my conduct to you, or otherwise, you consider yr. self justified in breaking. You cannot blame us if we are unable to force Sir Thomas to sell his land, but rather on the contrary endeavour to reward us for the strenuous efforts we have made to induce him to do so.
As therefore I incurred these debts (which amount to a little under £100 and which consist entirely for clothing for myself and my children, and which extend from the period – which is now over 2 years' – when you ceased to give me the extra £100 which was all the allowance I ever had to dress myself and my children, and which with an increasing family is the very least I can spend to keep them warmly and tidily clad) on the understanding that you would give me sufficient to pay them according to yr. word, I cannot see how you can honestly withhold or desire to withhold from me a sum sufficient to cover these debts thus incurred, the payment of which will alone prevent our having bailiffs in the house and that soon (as I have already had several summonses our against me already).
If you recognise the odium which would be attached to Sir Thomas were he to neglect to help his son to the extent that lay in his power without having made any promise, to help him beforehand, you will surely recognised the same responsibility to help yr. daughter (to whom you did make a distinct promise) in the present immediate difficulty and also make some small provision well within the possibility of yr. means to provide against absolute want in the future, and what you yourself recently stigmatised as an 'impossible and miserable state of things'.
I need only to add that, should you answer this appeal in the manner that I cannot but hope you will inevitably do, I on my part will not fail to recognise it with filial gratitude and due appreciation.'

Yr affectn daughter
Agnes G. Grove [15]
Despite some terse exchanges the family seems to have been close. As shown by the tragedy of the youngest son, Arthur, who was mentally ill and confined in various asylums. Agnes writes in June 1890:
I had yesterday the most dreadful letter from Alice telling me of Arthur's terrible condition, and I waited at Tisbury hearing Papa was coming. He told me much sad news that I had not heard before. How the poor boy has constantly to have two keepers with him and how he tries to escape. I can think of nothing else, it quite upsets me. I so long to get to him and see what I can do. If only they could get him into the country it would be so much better for him. [16]
Ultimately, in Agnes' letters, there is little that corresponds to the characterisations of the General and his wife as unwelcoming, miserly and unaffectionate. There clearly were arguments and tensions but Agnes' life and relationships with her family seem to have been loving, excepting the few months of 1882 when her frustrations over her engagement caused constant rowing. She had a close relationship with her siblings, particularly Alice and Lionel who were closest to her in age. The continued importance of Rushmore in her life even after her marriage suggests a happy family home to which she was glad to return. Source material for the home life of the family is too sparse to make any conclusive statements, but some of Agnes' accounts provide an antidote to the negative images that have been commonly suggested.
References
The account of Agnes life has been taken from information in:
D. Hawkins, Concerning Agnes: Thomas Hardy's "Good little pupil" (Gloucester, 1982)
and her DNB entry [http://www.oxforddnb.com/view/article/55591]
M. Bowden, Pitt Rivers: the Life and Archaeological Work of Lieutenant Augustus Henry Lane Fox Pitt Rivers, DCL, FRS, FSA (Cambridge, 1991)
M. Thompson, General Pitt-Rivers, evolution and archaeology in the nineteenth century (Bradford-upon-Avon, 1977)

Notes
[1] Thompson, 1977: 18
[2] Pitt-Rivers papers App. 2, 64 cited in Bowden, 1991: 29
[3] Hawkins, 1982: 138
[4] Hawkins, 1982: 139
[5] Hawkins, 1982: 18
[6] Hawkins, 1982: 24
[7] Hawkins, 1982: 17
[8] Hawkins, 1982: 29
[9] Hawkins, 1982: 40
[10] Hawkins, 1982: 31
[11] Hawkins, 1982: 29
[12] Hawkins, 1982: 47
[13] Hawkins, 1982: 87
[14] Hawkins, 1982: 76
[15] Hawkins, 1982:  76-78
[16] Hawkins, 1982:  79
13 March 2012
Note: the portrait of Agnes shown on this page is a family portrait, the current location of the portrait is unknown. In a letter dated 8 October 1891 Beaumont the artist said: 'It gratified me much that on the whole Mrs Groves picture gives you such satisfaction. Your criticisms are so much in accordance with my own intentions in the picture that I think & hope I may be able to please you in the various points also, that you speak of when I see it afresh - before it goes into the Academy where I think you said you would allow me to send it.' [L728 S&SWM PR papers] The portrait was shown at the Royal Academy Summer Show in 1892.
To find out more about Agnes and Thomas Hardy see here.