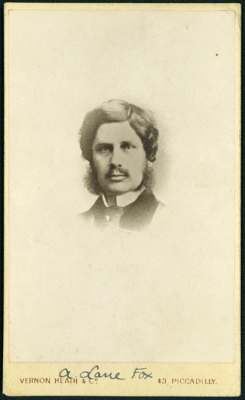 On this webpage are the images of Pitt-Rivers held in the photographic collections of the Pitt Rivers Museum at Oxford and the information that is known about them. In all cases (I think) they are copy negatives or prints. The history of how they ended up in the Pitt Rivers Museum is unknown.
Pitt-Rivers seems to have had many portraits taken of him during his life both photographically and painted. The Museum owns several photographic portraits but no painted ones, which remain with the Pitt-Rivers family. The images that the Museum owns are shown on this page and show him from a young(ish) man to a old man. In addition, the Museum owns a portrait of Pitt-Rivers on his deathbed, acquired by an external source, which is not shown here.
It is clear that Pitt-Rivers himself commissioned most, if not all, of these formal portaits. Evidence for this is provided in the Salisbury and South Wiltshire Museum's Pitt-Rivers papers [S&SWM]:
Mr Mayall presents his compls to General Pitt-Rivers & begs to enclose him a loop [sic] proof of his portrait. Before [word illegible] of its [3 words illegible] with one or two sittings this portrait will be all that can be desired he would also like definite & full instructions as to [2 words illegible] pounds [word illegible] as to [word illegible] further loss of time as he Mr. M. is anxious to make this portrait all that can be desired & a success
164 New Bond St
29.3.86 [L201]
This appears to be John Jabez Edwin Mayall (1813-1901) who worked in both London and Brighton. See here for more information. To date this particular portrait has not been identified. In the same plastic sleeve provided by S&SWM there is a note 'Mr Jamyn Brooks 7 Trafalgar Studios Manresa Road Kings Road SW'. It may be that Mayall was being commissioned to photograph a portrait painted by Brooks, or else that Brooks intended to use the photograph as a basis for a painted portrait. Henry Jamyn Brooks (1839-1925) was a painter who has a couple of works in the National Portrait Gallery and Wellcome Collection, Trafalgar Studios were famous studios in Chelsea, also inhabited by Whistler, Singer Sargent and Augustus John. It is not known if Brooks did prepare a portrait of Pitt-Rivers. L204 from S&SWM follows up this with another rather illegible communication from Mayall again with Brooks address in Pitt-Rivers' handwriting added to top which says:
Sir, Will you kindly make an appointment on back of enclosed card & post it to Mr Brooks & he will be prepared for a sitting at any hour you may name on Saturday next 3rd inst. [dated 2.4.86]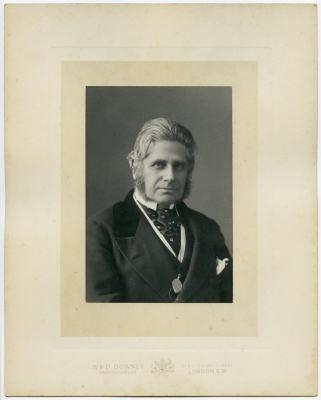 It is clear from other correspondence that Pitt-Rivers had a very firm idea of how he was represented in formal portraits. The correspondence relating to 1998.493.1 (shown below) given here, makes it clear that Pitt-Rivers asked for several amendments in order that the correct impression of him could be given.
In May 1897, Frederick Samuel Beaumont (1861-1950), a painter much frequented by Pitt-Rivers for portraits of his family, wrote to him:
'In any case I would very much like if possible this Jubilee Year to do at least a head portrait of you – either for your Oxford Museum or for the Larmer Tree. A hundred years hence it would be of no slight interest to the visitors to either place to see a portrait of their founder.' [L1813 S&SWM PR papers]
This portrait would seem to be the one mentioned, and shown, here.
In 1899 Henry Balfour, the Curator of the Pitt Rivers Museum at Oxford, had the following exchange with General Pitt Rivers which is a strange one given he cannot have known about Beaumont's suggestion:
"I have for a long time been anxious to place in this Museum some portrait of yourself, but I have so far not come across any published engraving, or other representation which I could purchase so I am writing in the hopes that you may have one which you could spare, and which you would be kind enough to give to the Museum. I am anxious in every way to identify as fully as possible your name with the Museum and I am sure that some portrait would greatly further this object. I am sure that you will forgive me asking you ..." [letter dated 4.1.1899 from Henry Balfour to PR, Salisbury and South Wiltshire Museum, PR ms collections L2312]
Pitt Rivers obviously responded speedily with a reply, Balfour's response was:
"Pray accept my best thanks for the excellent lithograph of yourself, and also for having had it framed. I shall have it hung in the main court of this Museum, and it will prove a welcome addition." [letter dated 24.1.1898 [sic - actually 1899] from Henry Balfour to PR, Salisbury and South Wiltshire Museum, PR ms collections L2043]
In the Museum annual report for 1900 (the year of Pitt-Rivers' death), it was noted that 'two portraits of the late General Pitt-Rivers have been fixed to the wall at the entrance [to the Museum], on either side of the door'. These portraits are no longer there, one of them can be found on the top floor of the Museum's offices where it was placed close to the offices of the project team during this research project.
The Museum also holds a copy of the photograph of Pitt-Rivers 2 hours after his death on 4 May 1900. [1998.271.61]
What is known about these portraits:
1998.271.76 Vignette carte-de-visite portrait of Lane Fox as an young man by Robert Vernon Heath, unknown date but probably 1860-65.
1998.271.6 Photographic portrait of Lane Fox, head and shoulders, unknown date thought to date from 1860s-1870s
1998.271.5 Formal group portrait of members of the Pitt-Rivers family, presumably at Rushmore in 1891. William Fox-Pitt, the General, his wife Alice Margaret, Douglas Fox-Pitt and Ursula Scott (all children of Pitt-Rivers) and three of Ursula Scott's children.
1998.271.66 Studio portrait of Pitt-Rivers, unknown date but circa 1890. Original portrait taken by Messrs W. and D. Downey, Ebury Street, SW London
1998.356.80 Copy print of photograph of Pitt-Rivers when older, unknown date but after 1880. A larger copy of this image was displayed on one side of the entrance to the Pitt Rivers Museum, Oxford after 1900.
See here to find information about other portraits of Pitt-Rivers, held elsewhere.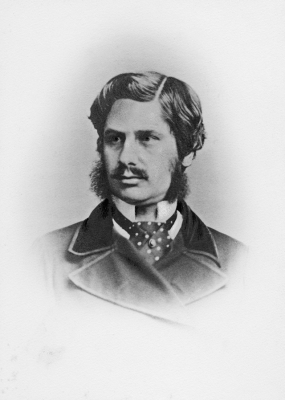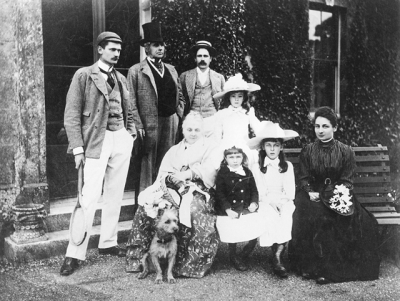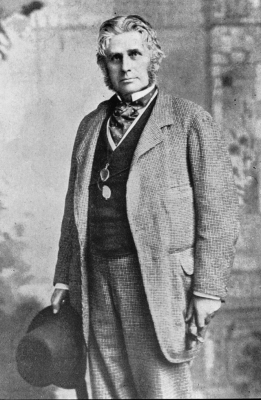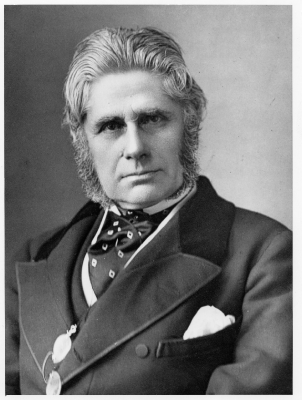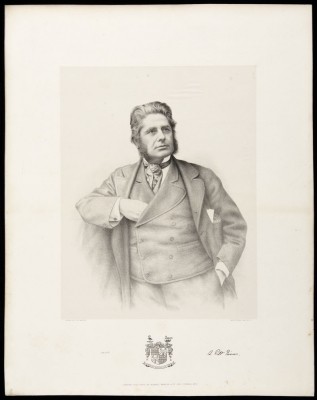 AP, April 2011 / December 2012