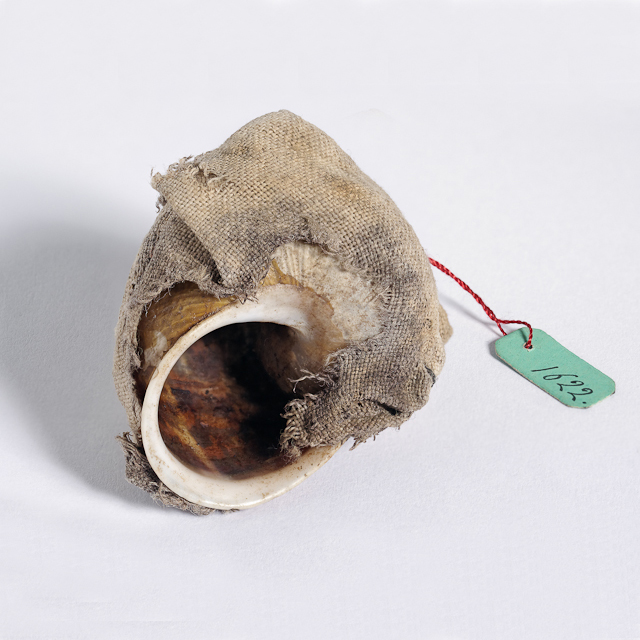 Transferred from the Wellcome Institute in 1985; 1985.52.833
The snails in these linen bags were collected from the walls of a small chapel in Brittany, France. According to local folklore they were gathered in the month of May and used as a cure for fever. For this cure to be effective, those affected had to visit the chapel and gather the snails for themselves. Once collected, the snails were sewn into small linen bags and worn around the neck, where they remained until the fever had passed. Then, the person who had been cured would return to the chapel and bury the snails at the foot of the walls of the chapel. It was believed that if this ceremony was not performed correctly, the fever would return.
Snails have been put to a variety of uses in folk medicine. According to North American folklore a snail soaked in vinegar, rolled in meal, and worn around the neck – in a similar fashion to the Brittany snails – had the power to cure rheumatism. Snails have also been used to treat warts, made into broth to cure consumption, and snail slime was once thought to help straighten deformed limbs.
The chapel in Brittany where these snails were gathered was built by Charles of Blois in the 14th century. Charles was the Duke of Brittany and he fought in the Breton War of Succession, part of the Hundred Years War between France and England. During the war he was taken prisoner by the English and held captive in the Tower of London for nine years. Charles was a devout Catholic and after his release he returned to Brittany and built the chapel, which he dedicated to St Léonard, the patron saint of prisoners.