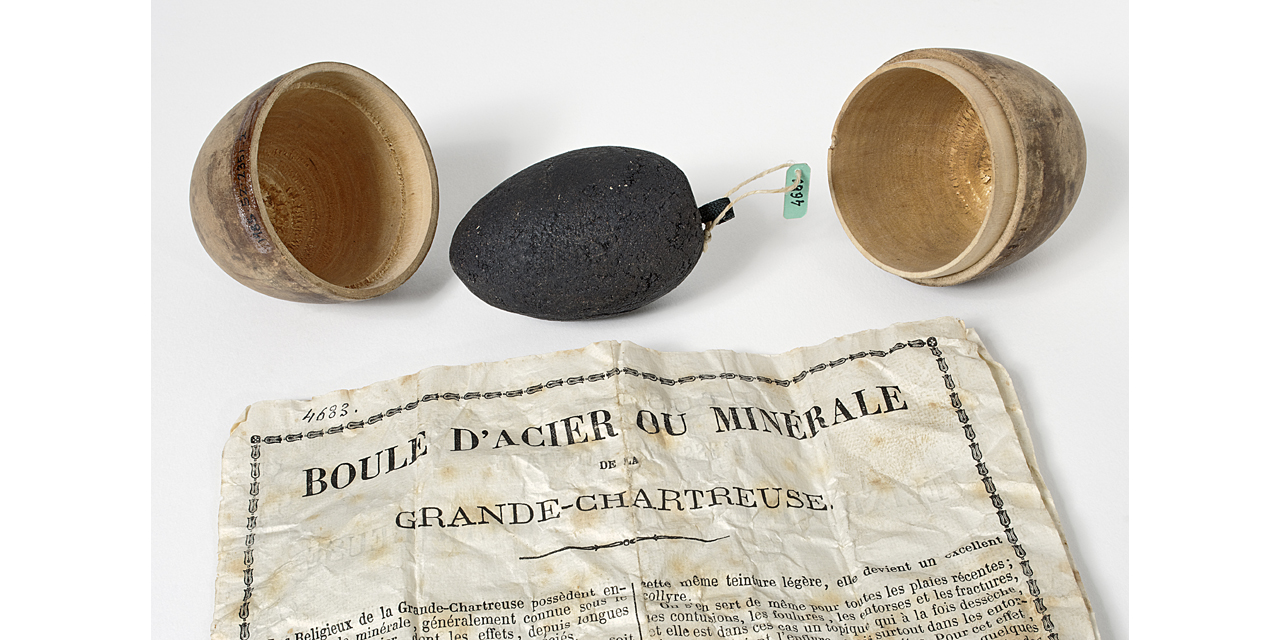 Transferred from the Wellcome Institute in 1985; 1985.52.2351.1-3
The Carthusian Order was founded by Saint Bruno in AD 1084 at
La Grande Chartreuse
, a monastery
in a remote area of the French Alps. In 1737 the Carthusian monks began making a herbal liqueur which they sold as a medicinal 'elixir of long life'. Chartreuse liqueur is still made today following the ancient recipe, and is known around the world.
Between 1826 and 1920 the Carthusian monks also made steel balls like this one (known as a
boule d'acier
or
boule minérale
in French), which they sold as medicinal treatments for a wide range of problems. According to the printed instructions that accompanied the steel balls, flakes could be soaked in
l'eau-de-vie
(a clear, colourless fruit brandy) and applied to compresses to treat cuts, bruises, sprains and fractures, or dissolved in water to make
an eyewash to treat eye infections. Added to herbal tea or chicken broth, the remedy could be drunk as a treatment for almost any ailment, from headaches and stomach complaints to hysteria and hypochondria.
The monks' recipe for the steel balls included
50 pounds of iron or steel filings, 30 pounds of tartar, and 2 oz of pulverised amber (these quantities made approximately 25 steel balls). These ingredients were heated on a stove, stirred, and moistened with wine spirits. Once the mixture was black and dry it was pulverised and passed through a sieve. Aromatic and balsamic resins were then added, and the mixture was again put on a hot stove, moistened with
l'eau-de-vie
, and stirred well. It was then worked a little in the hands and put in moulds. Using a small instrument, the monks made a hole at the top of each ball, and inserted a small ribbon. Once set, the balls were removed from the moulds, cleaned, polished, and left to dry for two or three days before being stored in a cabinet. This recipe was kept a guarded secret until 1993, when Brother Marie-Bernard, an archivist at
La Grande Chartreuse
, was authorised to make it public.