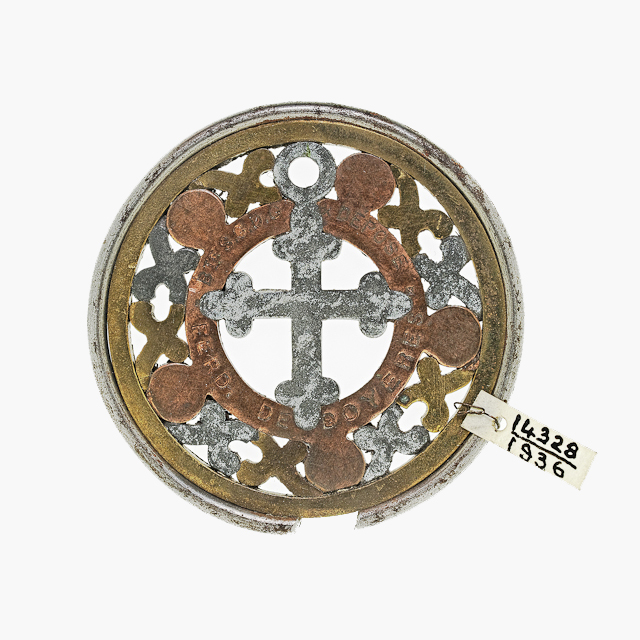 Transferred from the Wellcome Institute in 1985; 1985.52.777
This circular galvanic battery is composed of concentric bands of different types of metal, with a cross in the centre. The inscription 'BTE S.G.D.G' stands for Breveté Sans Garantie Du Gouvernement ('patented without government guarantee'), while 'FERD. DE BOYÈRES' refers to Ferdinand de Boyères, the inventor of the device.
Galvanic batteries (known as
médailles électriques
in French), were marketed in France, England and America in the late 19th century, when electricity was still a novelty and
medical quackery was rife. In London, J.C. Boyd claimed that his battery could cure nearly all diseases, and in New York A.M. Richardson urged men, women and children to wear the device. In France, galvanic batteries could be purchased from Ferdinand de Boyères for the price of 5 Francs.
According to these inventors, the battery should be worn on a cord around the neck so as to allow the device to hang on the chest, next to the skin. The combination of different metals (usually copper, brass and nickel) in contact with
the natural humidity of the skin was said to produce a beneficial electric current that would purify the blood and safely cure any number of conditions, including headaches, rheumatism and toothache.